Whether your program is academic or adventure-based (or both!), we believe you will find something to meet your needs at Blue Ridge Outdoor Education Center! Learn about our daytime and evening classes.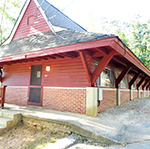 Lodging
Our standard lodging facilities are 13-bed Dorms with a group bath. Each dormitory has two sides with 13 beds and one bathroom per side. Each bathroom has two sinks, two toilets and two showers. Two of our dorms also have an additional commons area on the front.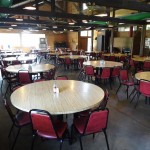 Dining
Our Dining Hall, built in the early 1980's, can seat up to 200 people. Hot meals at lunch and dinner are accompanied by an extensive salad bar. Examples of popular meals include chicken nuggets, hamburgers, and grilled cheese. We also serve a full breakfast with eggs, bacon or sausage, biscuits or french toast, and a cereal bar. A variety of hot teas and coffees are always available to adults!
Vegetarian and gluten-free options are available upon request.