Blue Ridge Outdoor Education Center instructors are college graduates or interns. Instructors are trained and experienced in environmental education such as geology, biology, and forestry as well as outdoor education such as team building and high ropes and adventure programs like rock climbing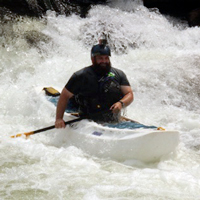 Blake Burks, Director

Growing up in Central Virginia, Blake spent his spare time riding mountain bikes on the Blue Ridge Parkway trails, taking day hikes on the Appalachian Trail and learning how to paddle. He played year-round soccer in high school.
Blake attended Lenoir-Rhyne College where he studied Psychology. After college, he began working in the child mental health field where he spent more than six years in the Therapeutic Foster Care system supervising the foster care department and foster homes.
Blake has been teaching experiential education since 2012. As well as teaching, he has lead overnight adventure trips and has been the paddling head for various summer camps.
Blake has been working at Blue Ridge since the spring 2013 contractually, full time since fall 2014 and became the Director of Blue Ridge Outdoor Education Center in May 2015.
Blake is a whitewater canoeist and a snow skier. When he is not on the river, he enjoys live music and spending time with his friends.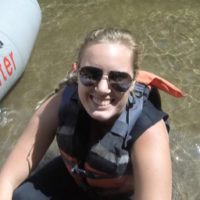 Anna Dinwiddie, Assistant Director
Anna was born and raised in Knoxville, TN where she spent her time playing sports, swimming, hiking in the Smoky Mountains, and enjoying the great outdoors.
Anna graduated from the University of Tennessee Chattanooga with a degree in Outdoor Recreation and a minor in Psychology.
Growing up swimming and hiking fostered a love for the outdoors and while in college she worked at Grace Point Camp and Retreat Center in Knoxville as well as other camps where her love for the outdoors and working with youth only grew.
This is Anna's fourth season at BROEC and first as Assistant Director and she is very excited to continue working at such an amazing place. In her spare time Anna loves to go to football and baseball games, spend time on the lake, read a good book, and hangout with her dog.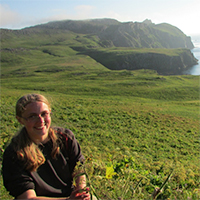 REBECCA FROWINE

I was born and raised in southern Michigan and spent my childhood camping, canoeing, and fishing in the state's many forests and lakes. My love of the outdoors eventually led me to Alaska where I completed a Bachelor's degree in Marine Biology at Alaska Pacific University in Anchorage. While completing my undergraduate education I was a math tutor and discovered my love of teaching.
I followed both my passions to Maine where I received my Master's in Marine Science from the University of New England. There I had the pleasure of teaching hands on marine biology and biology labs that took me and my students everywhere from the rocky intertidal to the woods. I also volunteered with the Marine Animal Rehabilitation and Conservation program and cared for seals and sea turtles.
Since finishing school, I have worked as a Steller sea lion observer, living on remote islands in Alaska during the summers. I am excited to return to Blue Ridge Outdoor Education Center for my third season!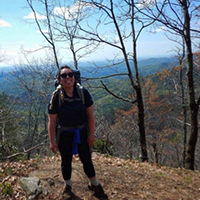 NICOLE RUIZ

Nicole was born and raised in Northern Illinois. In high school, she was inspired by an incredible biology teacher to learn as much as she could about the world around her. In May of 2016 she graduated from Wesleyan University in Middletown, Connecticut with a degree in Biology, but she's excited to know that her learning is still just beginning.
In college, Nicole had a lot of awesome opportunities to do things like study abroad in Australia, and work as a tutor for local elementary school students. After graduation, she decided to look for a job that would allow her to put her passion for nature and love of teaching together, so she started working as an environmental education instructor in her local forest preserve district. Now she is returning for her second season at BROEC and she is very excited to continue working with the Blue Ridge family!
Nicole has an intense love for musk turtles (and all animals!) Her hobbies include playing ukulele, literally hugging trees, and thinking about important questions (like why water is wet and if oak leaves are really the happiest of all).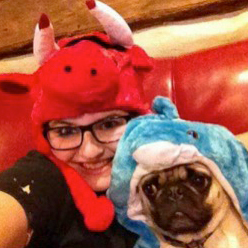 SHELBY TYREE

My name is Shelby Tyree, I was born and raised in Carlisle KY. There is only one thing you need to know about me and that is that I'm pretty awesome! Despite what Nicole says she is my twin there is no denying it. I have traveled the world in a hot air balloon twice and only wrecked it once. The zoo named a sloth after me due to my quick wit and warp speed abilities. Captain Kirk of the Starship Enterprise was trained by me. I eat success and oranges for breakfast. I. Am. Awesome.
I graduated from the greatest university in Richmond KY, Eastern Kentucky University. I received my bachelor's degree in wildlife management after 2 days of classes because I was too smart to learn anything else. This will be my second season as an outdoor educator at Blue Ridge Outdoor Education Center. I also hold a world record for the quickest alligator fight to ever happen only using my feet…and I won.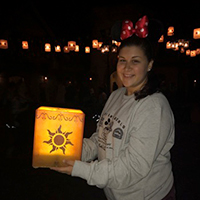 CHEYENNE HOOVER

Hi Everyone! My name is Cheyenne and I am so excited to be Blue Ridge this fall season!
A few things to know about me are that I am from Perry, Florida, a small town known for pine trees. I grew up dancing, and riding horses. I am currently a Disney World annual passholder and hard-core Star Wars lover!
Before coming here, I served as Animal Programs Educator at SeaWorld Orlando where I gained oodles of knowledge on marine life. I hope that I can explore with you, connect all of our lives to nature, and inspire you to create a better planet for the future.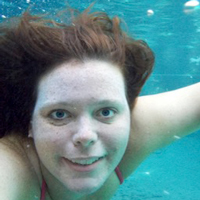 RACHEL MUNRO

Rachel grew up in Lilburn, Georgia, and has had passion of the outdoors since she was a child. Graduating from the University of Tampa with a degree in Environmental Science, Rachel first discovered her love of sharing the natural world with others when she worked as an Interpretive Ranger in Juneau, Alaska. From there, she decided to learn more about educating others, and traveled to New Hampshire to serve an AmeriCorps term.
Most recently, Rachel has been working at the Teton Science School in Jackson, Wyoming.
Rachel is very excited to join the Blue Ridge Outdoor Education Center. She is most looking forward to working in a place that inspired and enchanted her as a child, hopes to share that with other children.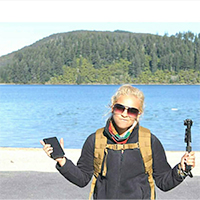 RACHELLE TOTH

Born and raised in Northeastern Ohio, Rachelle spent most of her childhood exploring the outdoors. Her curiosity led her to spend most of her time hiking, swimming, catching tadpoles, wondering why things were, building forts in the woods and eating popsicles.
Rachelle graduated from the University of South Carolina Beaufort with a bachelor's degree in biology and a minor in communications. Traveling throughout the east along with studying abroad in Australia and New Zealand, her appreciation for the environment around her grew even more.
Working at Disney Hilton Head resort as a recreational lifeguard was where she discovered how awesome and rewarding it was to work with kids. For the past 2 years, Rachelle worked for an outfitter named Outside, as a kayak guide and paddle board instructor. Additionally, she worked kids camps and various other roles within the company.
The combination of working with kids and working outside has led her to her first season here at Blue Ridge! She is looking forward to working with all kids and having the opportunity to convey the appreciation and beauty that nature shares with us.