Blue Ridge Outdoor Education Center instructors are college graduates or interns. Instructors are trained and experienced in environmental education such as geology, biology, and forestry as well as outdoor education such as team building and high ropes and adventure programs like rock climbing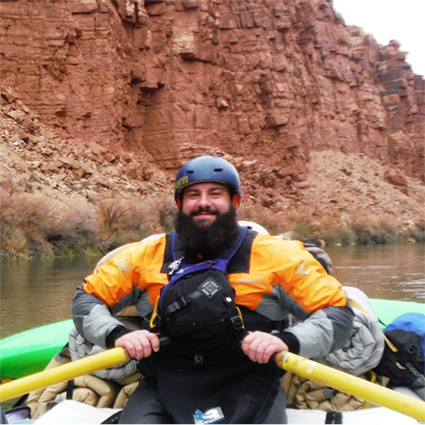 Blake Burks, Director

Growing up in Central Virginia, Blake spent his spare time riding mountain bikes on the Blue Ridge Parkway trails, taking day hikes on the Appalachian Trail and learning how to paddle. He played year-round soccer in high school.
Blake attended Lenoir-Rhyne College where he studied Psychology. After college, he began working in the child mental health field where he spent more than six years in the Therapeutic Foster Care system supervising the foster care department and foster homes.
Blake has been teaching experiential education since 2012. As well as teaching, he has lead overnight adventure trips and has been the paddling head for various summer camps.
Blake has been working at Blue Ridge since the spring 2013 contractually, full time since fall 2014 and became the Director of Blue Ridge Outdoor Education Center in May 2015.
Blake is a whitewater canoeist and a snow skier. When he is not on the river, he enjoys live music and spending time with his friends.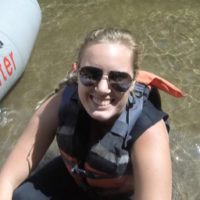 Anna Dinwiddie, Assistant Director
Anna was born and raised in Knoxville, TN where she spent her time playing sports, swimming, hiking in the Smoky Mountains, and enjoying the great outdoors.
Anna graduated from the University of Tennessee Chattanooga with a degree in Outdoor Recreation and a minor in Psychology. Growing up swimming and hiking fostered a love for the outdoors and while in college she worked at Grace Point Camp and Retreat Center in Knoxville as well as other camps where her love for the outdoors and working with youth only grew.
This is Anna's third season at BROEC and she is very excited to continue working at such an amazing place. In her spare time Anna loves to go to football and baseball games, spend time on the lake, read a good book, and hangout with her dog.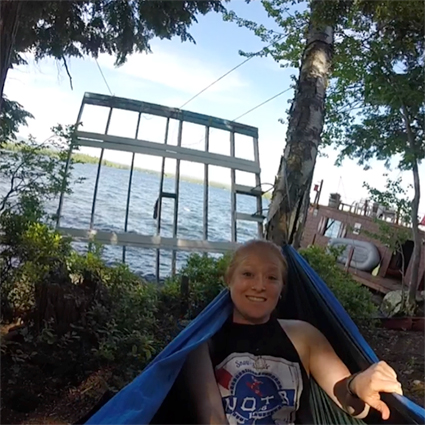 Jennifer Garrard

Hi, I'm Jen Garrard! I was born and raised in Wilmington, Massachusetts.
My summers consisted of traveling to national parks all over the country as well as spending time with family on Lake Winnipesaukee in NH.
I earned my degree from University of Maine at Farmington as an Education major with a concentration in Mathematics. During my college years, I played softball, worked as a camp counselor at a Boys & Girls Club, and taught snowboard lessons at Sugarloaf. In my spare time, I like to hike, bike, snowboard, kayak, and paint.
After graduating, I have found my true passion for teaching youth and working in the outdoors. This is my second season working at Blue Ridge and I am excited to see where this new season takes me!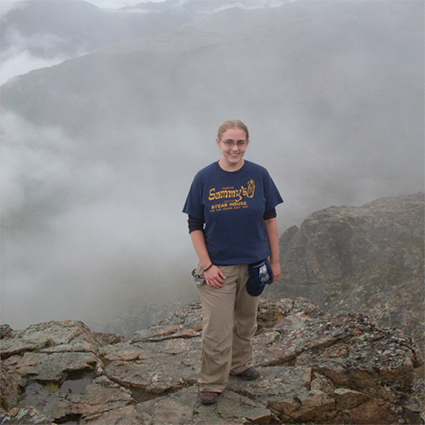 Rebecca Frowine

I was born and raised in southern Michigan and spent my childhood camping, canoeing, and fishing in the state's many forests and lakes.
My love of the outdoors eventually lead me to Alaska where I completed a Bachelor's degree in Marine Biology at Alaska Pacific University in Anchorage. While completing my undergraduate education, I was a math tutor and discovered my love of teaching.
I followed both my passions to Maine where I received my Master's in Marine Science from the University of New England. There I had the pleasure of teaching hands on marine biology and biology labs that took me and my students everywhere from the rocky intertidal to the woods. I also volunteered with the Marine Animal Rehabilitation and Conservation program and cared for seals and sea turtles.
Since finishing school I have worked as a Steller sea lion observer, living on remote islands in Alaska during the summers. Last fall I had the pleasure of joining the Blue Ridge Outdoor Education Center staff and I am excited to return for my second season!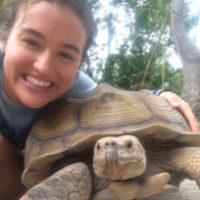 Sophia Schmidt

Growing up her childhood was split between Atlanta, Georgia, Cleveland, Ohio and Madison, Wisconsin. What stayed constant was her collection of pets (3-8+ creatures living in her house at any given moment), camping trips, and swimming. Her love and excitement for animals and the outdoors started from birth and continues through today.
In high school, she enjoyed swimming and going on backpacking trips in the Rocky Mountains each summer. While pursuing a degree in biology from the University of Wisconsin at Milwaukee, she discovered swim coaching and her love for motivating and teaching kids.
During swim practices, she was known to spit out random pieces of information she had picked up from her studies or beg her swimmers to ask her for help on their biology homework. During her 3 years working with high school swimmers she also helped lead her team to school records, conference and state titles.
In college, she also studied French, where her skills brought her to the ability to travel to Haiti to work as a translator in the Spring of 2012.
In the summer of 2016, she interned at an outdoor interactive aquarium in the Florida Keys. Her favorite part was the numerous amount of species she came across and spent most of her free time wading through the beaches looking for stingrays, juvenile parrotfish and sharks. She is deeply inspired by all the naturalists she watched on Animal Planet and Discovery Channel as a kid. She couldn't pick a favorite animal if she tried but she very much enjoys large reptiles and fluffy mammals.
In her spare time, Sophia enjoys exercise, playing with her cats, music, dancing, reading, going to museums, and art. This is Sophia's first season at Blue Ridge!
I am looking forward to joining the Blue Ridge Outdoor Education Center and having the opportunity to teach students again!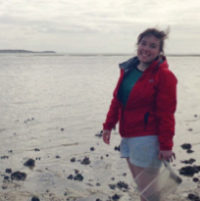 Nicole Ruiz

Nicole was born and raised in northern Illinois.
In high school, she desperately wanted to be a writer, but after working with an amazing biology teacher (and realizing she wasn't that great of a writer), she was inspired to follow that path instead. Last May she graduated from Wesleyan University in Middletown, Connecticut with a degree in Biology.
In college, she had a chance to try out many different areas of biology, as well as study abroad in Australia and do field research on Fraser Island. When she was back on campus, she spent her time working as a tutor and realized that she also loved working with children.
After graduation. Nicole decided to look for a position that would allow her to put those two passions together, so she started working as an environmental education instructor in her local forest preserve district where she taught many different nature programs to school and scout groups in her area.
Nicole has an intense love for musk turtles and her hobbies include playing ukulele, snuggling up with her giant dog, and tripping over her own feet.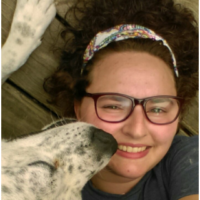 Shelby Tyree

My name is Shelby Tyree; I was born and raised in Carlisle KY. Living out in the countryside allowed me to spend most of my childhood outside where I developed a passion for wildlife and I also developed a habit of bringing home stray animals. I grew up on a small farm where I helped care for pigs, ducks and horses and spent a lot of time fishing.
I graduated from Eastern Kentucky University with a B.S. in wildlife management. My hobbies include horse backing riding, reading, writing, and spending time with the eight dogs that live with me.
This will be my first season working at Blue Ridge Outdoor Education Center and I look forward to teaching students about the great outdoors.