Adventure programs offer participants the chance to push their physical and emotional comfort levels in a safe environment. While the risks taken may be physical, mental, emotional, social, or even spiritual, the outcomes can be profound as each individual comes to a new level of self-confidence, awareness and understanding. The rewards of these programs can last a lifetime.
All Blue Ridge adventure programs adhere to a philosophy of Challenge by Choice. The participants decide what level of challenge they feel comfortable with and push themselves to reach that goal. The participant will find support and encouragement from the group to help them achieve their goal. Success with any task is not determined by completion, but by the participate giving their best effort.
Please note that Adventure classes fall in a higher pricing bracket than our other classes.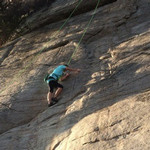 Climbing on Natural Rock Wall at Currahee
Travel with trained and experienced Blue Ridge staff to climb on one of Georgia's natural rock climbing sites at Currahee! Currahee offers over 50 different climbing routes for rock climbers of all abilities. Students will climb on Currahee's slab walls while being belayed by top rope by Blue Ridge staff. There are also bouldering and rappelling routes available!
Groups work on supporting one another while individuals set personal goals. Whether you climb just a few feet or make it to the top, Rock Climbing at Currahee allows for personal growth and team building!
Pricing – $36.00 per person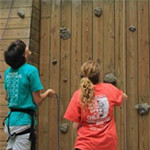 Climbing Tower
Whether you climb only a few feet or all the way to the top of our 38 foot climbing tower, this challenge offers fun and excitement. Neither experience nor great strength are necessary for success at the climbing tower. Setting a goal, trying hard, and having fun are the objectives at this site.
Our tower is built to accommodate a wide variety of ages and talents.
Pricing – $18.00 per person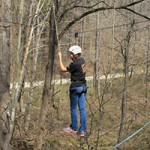 Ropes Course
Blue Ridge Outdoor Education Center has a new high ropes course which has a unique design allowing groups to work on cohesiveness while letting individuals set and meet their personal goals.
Situated 35 feet above the ground, the ropes course consists of several elements, including a 400-foot zip line that crosses the Little Toccoa Creek. All participants must wear safety gear including a harness, helmet and closed toed shoes. Participants are supervised and encouraged by trained Blue Ridge staff.
Pricing – $24.00 per person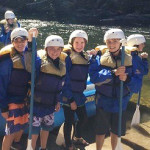 White Water Rafting on the Chattooga River
If you are scheduled for a Rafting trip, contact Blue Ridge for the Rafting Release Form. Each of the participants will need a copy before the trip.
In May 1974, Congress declared the Chattooga River a "Wild and Scenic River" meaning, among other things, that it cannot be dammed or developed up to a quarter mile of its banks.
Except when schedule conflicts exist, we book trips with Wildwater, LTD, a professional rafting company with over 23 years guiding experience. We travel by van to the river (approx. 25 min). Participants wear lifejackets, helmets, and wet suits (in cold weather).
We raft Section III, a beautiful five mile stretch of class II and III (one class IV) rapids. Wildwater guarantees a professional guide in every other raft.
Wildwater lets adults serve as guides in rafts which stay between professionally guided rafts. One or two trained Blue Ridge staff members go along as additional guides. Teachers and/or chaperones can also accompany the groups as guides, but they must pay a reduced rate rafting fee. Wildwater will guarantee a professional guide in each raft for an additional fee of $50 per guide. Please call if you have questions or concerns regarding these policies.
What to bring for a rafting trip: Shoes that can get wet and stay on feet (i.e. no flip flops), a bathing suit, sunscreen and a bag to carry wet clothes in. During cooler weather also bring wool socks, polypropylene or other synthetic clothing such as long underwear (NOT cotton). In addition, students may want a wool sweater or fleece to put on after rafting.
Pricing – $76.00 per person