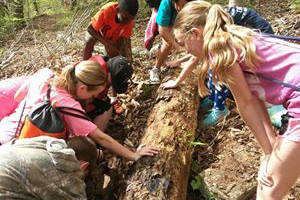 Here you can find all the information you need to plan your visit to Blue Ridge Outdoor Education Center.
Please read through it in its entirety now, and then continue to refer to it as you plan your trip. If you need other assistance, please feel free to call (706) 886-7621 or email blueridgedir@campmikell.com
Download a printable version of this checklist.
UP TO ONE YEAR BEFORE ARRIVAL
Reserve your preferred dates up to a year in advance by calling (706) 886-7621 or emailing blueridgedir@campmikell.com.
Upon reservation, you will receive a reservation contract to review, sign, and return to Blue Ridge within 30 days of receipt as well as a $250.00 reservation deposit to confirm reservations and hold dates.
3 MONTHS BEFORE ARRIVAL
Plan for collection of student money. Many teachers will require a non-refundable deposit from students well before the trip or they have students pay in monthly installments from the beginning of the school year.
Recruit chaperones
Make transportation arrangements (school bus, charter bus, other)
2 MONTHS BEFORE ARRIVAL
Choose your classes and set up your schedule with Blue Ridge staff. Send us your completed Class Selection Form as an email attachment to blueridgedir@campmikell.com or fax it to us at (706) 886-7580.

Refer to:
Daytime Classes
Evening Classes
Adventure

Make requests for special services such as special dietary needs (including food allergies), medical needs, housing requirements, etc.
Create student journals if you wish. If you are interested in journal pages, please contact us.
Rates – Please note the difference between regular class and adventure class prices.
1 MONTH BEFORE ARRIVAL
Assign each student to both a field group and a cabin group. Cabin groups should have up to 12 students and 1 chaperone. Field groups should be mixed gender – contact us to find out how many field groups are needed.
Send letters and forms home to parents and chaperones – insist that the deadline be at least a week before the scheduled trip.
Plan to have a check cut for the remainder of the fees
Plan to purchase T-shirts, water bottles, bandanas or stickers if desired. It is helpful if you collect the money ahead of time and make a list of names and sizes. This will save time and headaches on the last morning.
Encourage students and parents to visit www.blueridgeoec.com
Plan and host a Chaperone Orientation Meeting
1 WEEK BEFORE ARRIVAL
Collect forms and paperwork from parents and chaperones. Alphabetize medical forms and release forms for Blue Ridge staff.
Review Last Minute Reminders
Make name tags for students
Review rules with students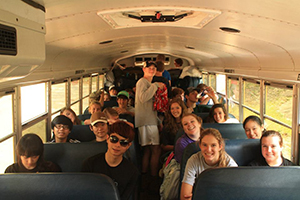 DEPARTURE DAY
Collect medications. Compare with your medication schedule to check that students have brought needed medications.
Assign students to vehicles.
Pack vehicles
Have a safe trip. We will see you here!